Scents of summer: Dawley Farms Bath & Body Works sees boom in bug-combatting products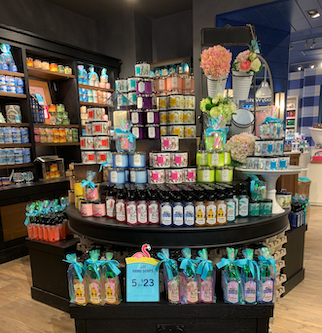 Here's some welcome news: You can smell great and keep the summer bugs away thanks to some popular sellers at the Dawley Farms Bath & Body Works.

Warm Vanilla Sugar and White Citrus lotions and sanitizers are flying off the shelves as people prepare for summer weather and the swarm of bugs that accompanies it.

Bruce Pedersen, the Dawley Farms store manager, said the vanilla helps ward off gnats and the citrus keeps away mosquitos.

"Those are always two really, really popular ones during the summertime," he said.

Pedersen said one customer came in to buy Warm Vanilla Sugar lotion in bulk to give to the landscapers who were currently working amongst the bugs in her backyard, and another customer stopped in for a bottle just before heading out to the golf course.

Bath & Body Works also launched a new "light, fresh and floral" summer smell called Gingham, which Pedersen said has far outsold the other products.

The store also has new "island collection" aroma therapy items in stock for the summer, including plumeria absolute with mandarin essential oil for energy, Hawaiian sandalwood with eucalyptus oil for stress relief and hibiscus absolute with Ylang-ylang oil for sleep.

The store is currently preparing for last-minute Father's Day gifts, which Pedersen said sell quickly in the days prior because the scents — like eucalyptus spearmint and black chamomile — are more neutral.

Pedersen said the company is always coming out with new aromatherapy scents that customers should keep an eye out for — but for now the store is keeping Warm Vanilla Sugar and White Citrus fully stocked for anyone spending substantial amounts of time outside with the bugs.